Stu and Avery Weissman Duo
Saturday August 27th 3:00 pm - 4:30 pm
DiCamillo Courtyard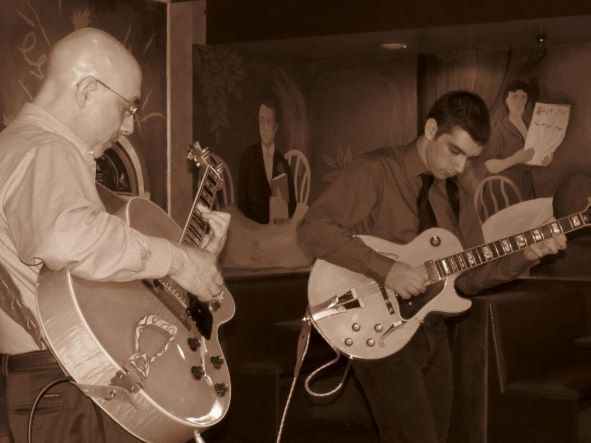 Guitarist Stu Weissman has been on the local music scene since the early 1970's and while often considered first and foremost as a jazz guitarist he is also is conversational in the blues and funk genres as well. Originally from NY City he came to Buffalo in 1969 and with the exception of a one year hiatus has been here for the last 50 years. His earlier years saw him playing mostly on Buffalo's East Side where he performed with his mentor and friend (guitarist) James Clark.
In 1980 he joined he became a member of the "Buffalo Jazz Workshop" where he revived the Albright Knox Sunday summer jazz concerts that continue on to this day. Since that time he has been a leader of his own jazz duos, trios, and fronted the jazz fusion group "67th Ave" in the early 80s. He was a part-time adjunct instructor of jazz guitar at Buffalo State College for nearly 17 years and continues to teach young and not so young guitar enthusiasts. He often performs with vocalist DeeAnn Dimeo Tompkins and plays weekly at the Sportsmen's in Joe Baudo's quintet.
His life was forever altered in 1996 when Avery, the first of his two musician sons was born. Avery started playing guitar at the age of four and at the ripe age of eleven began performing with his father in both duo and trio settings, and had on occasion the opportunity to play with the legendary late James Kurzdorfer on bass. Both he and his brother Ethan (piano/guitar) participated in the long standing weekly Blues sessions at "The Iris" as well as playing monthly in a family group known as "Weissman's Aces". Avery continued to play guitar but somewhere along the way also gravitated towards the bass. Although currently a Statistics major at UB, he is gigging constantly in many different settings and genres from country to classic rock, blues to jazz. Of course his favorite gigs are always with his dad, just ask him.