Andrew Nixon Trio
Friday, August 23rd 5:45 pm - 7:15pm
The Frontier House Stage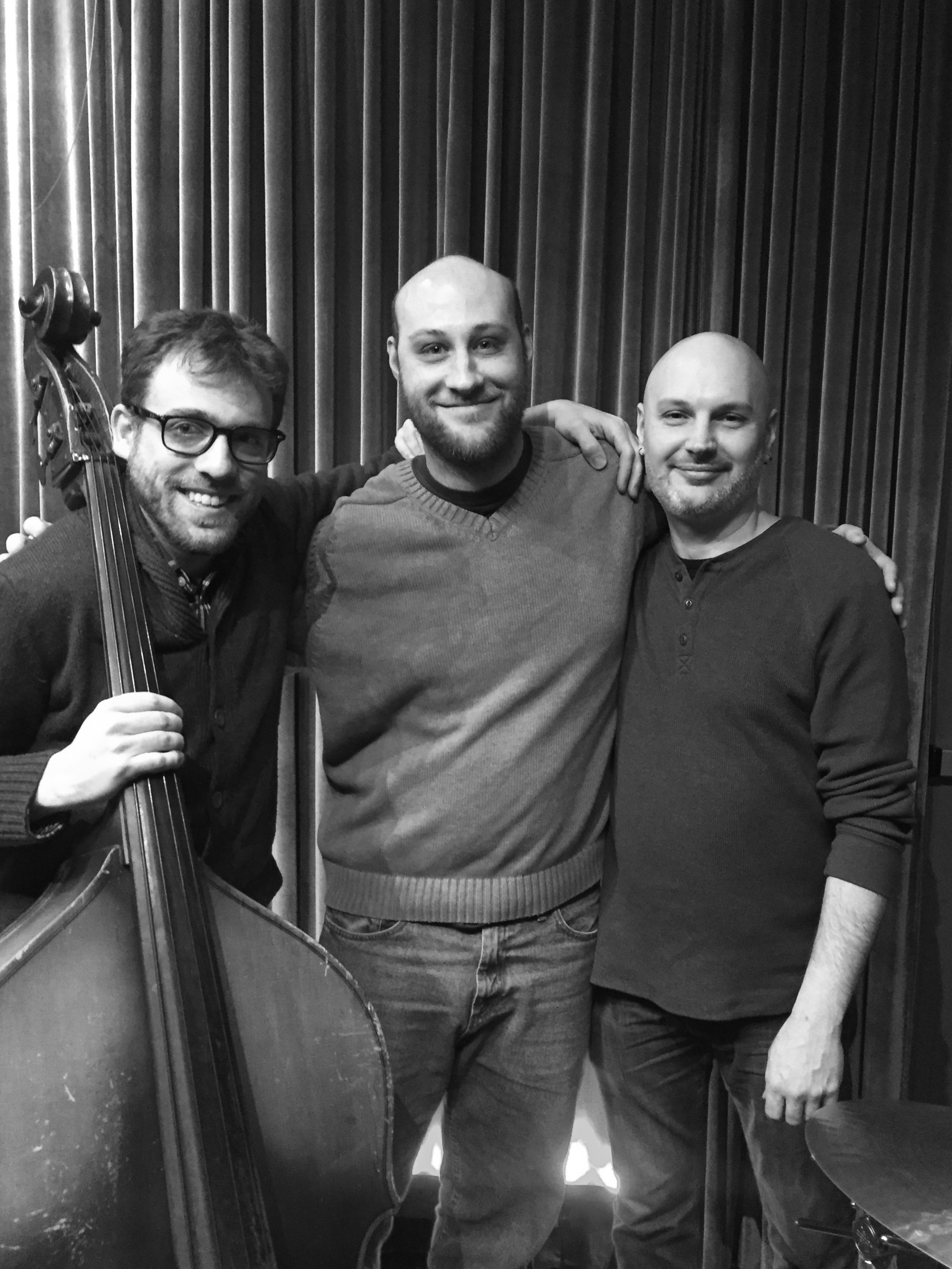 A modern jazz trio inspired by the styles of Chick Corea, Keith Jarrett, Bill Evans, Mccoy Tyner and more. Features Andrew Nixon on piano, Joe Goretti on drums and Ed Croft on Bass. The group has previously performed in the Buffalo, NY area in venues such as Pausa Art House, Hotel Henry, CMC Jazz Festival, Buffalo Infringement Festival and many others.
Andrew Nixon began studying jazz piano, theory, and composition with the great Rochester, NY pianist Paul Hoffman in 2006. He earned a Masters degree in Music Theory from the University of Buffalo in 2012. In addition to small group performance, he frequently performs with the Carol Mclaughlin Big Band. He is also a music educator, with about 30 private piano students.
Joe Goretti is a full-time professional freelance drummer/producer/educator based in New York City. He has performed around the world and on national/international television laying down the groove for a wide variety of artists that include Moby, Ne-Yo, Robyn, AJR, Ingrid Michelson, Sam Moore (Sam & Dave), The Temptations and more. Hailing from Buffalo, NY, this Berklee College of Music graduate has a career span that includes not only live performances and world tours but TV credits as well. He has accompanied various artists on Saturday Night Live, The Tonight Show with Jay Leno, The Late Show with David Letterman, The Today Show, LIVE with Kelly & Michael, VH1 Big Morning Buzz, PBS Front Row Center, MTV Online Awards, Moby Live From Arras, France, The iTunes Festival, and the Moby Destroyed Deluxe (DVD).
Ed started his career playing in the New York City subways with famed blues musician Carolina Slim. From there, he began playing local shows with his rockabilly band, The Moonshiners. Upon graduating from high school, he pursued a Bachelor's degree in Music Education from SUNY Fredonia, which he completed in 2013. It was here that Ed had the chance to perform and study with local legends such as Tom Gestwicki, John Bacon, Bruce Johnstone, and more including an orchestra concert with Yo-Yo Ma. Before he'd completed his studies at Fredonia, he began a career as a touring musician starting with two years traveling with Celtic rock band The Town Pants and touring for another two years with bluegrass band The Jakobs Ferry Stragglers.
In between national shows, music festivals, and local showcases, Ed received his Master's degree from Bowling Green State University where he studied under Jeff Halsey, David Bixler, and Chris Buzzeli. Ed was also able to perform with Mike Stern, Dave Samuels (of Spyro Gyro fame), Gary Smulyan, Tim Hagans, Jimmy Heath, and Conrad Herwig during his time in Ohio. Now, Ed resides in Buffalo, NY where he is making a big impression on the local music scene.
Ed won the 2018 JazzBuffalo Poll for Best Acoustic Upright Bassist (repeat from 2017), Rising Star, and the John Hunt Jazz Artist of the Year awards. The results of these awards are decided on by residents of the city of Buffalo and all of Western New York.