Jazz in Lewiston Fundraiser Event will take place on August 27-28, 2021
published on Thursday, August 19th, 2021
LEWISTON, NY – The Lewiston Jazz Festival Inc. Board of Directors will host a "Jazz in Lewiston" fundraiser event on August 27th and 28th at dining establishments in the Village of Lewiston, NY. The traditional two-day street festival will NOT take place this year, but jazz music will be prominent throughout the weekend. Live music is scheduled throughout Friday and Saturday evening featuring local jazz musicians that have performed in past Jazz Festivals.
Reservations are encouraged and many of the dining establishments will have beverage/food specials with proceeds going directly to 2022 festival. The complete schedule can be found online at www.LewistonJazz.com as well as opportunities to donate online or via the popular app Venmo.
Friday, August 27, 2021
6-8pm Gather (453 Center St - Reservations Recommended (716)405-7162) - Saranaide with Dan Reitz
7-10:30pm Lewiston Stone House (755 Center St) - Elliot Scozzaro Quartet
$5.00 Cover at the door for Lewiston Stone House. All proceeds go to Northwest Jazz Festival 2022.
Saturday, August 28, 2021
2-4pm Gallo (402 Center St) - George Caldwell Sextet
4-6pm Gallo (402 Center St) - Paradigm Shift
4-6pm The Silo (115 N. Water St) - Dozo My Lady
4-6pm The Spicey Pickle (463 Center St) - George Kane
5-7pm Brickyard Pub & BBQ (432 Center St) - Dale Toliver Duo
5-7pm Water Street Landing (115 S. Water St) - Sol Y Sombra
6-8pm Apple Granny Restaurant (433 Center St) - Joe Baudo / Denise Beehag Duo
6-8pm Casa Antica (490 Center St - Reservations Recommended: (716) 754-2581) - Rick Strauss / Bud Fadale Duo
6-8pm Cask + Cow (840 Center St) - Stu and Avery Weissman Duo
6-8pm Gallo (402 Center St) - My Cousin Tone'
8-10pm Gallo (402 Center Street) - The Jay /Sharp-tet with special guest Sabu Adeyola
8-10pm Griffon House (810 Center Street - Reservations Recommended: (716) 405-7291) - Ed Croft / Doug Yeomans Duo

The event is made possible by many sponsors and donors including the presenting sponsors Northwest Bank, Kimmins Terrier Foundation and Calspan, Brown & Company, LLP, Niagara University, Amendola Property Management, Betty Brice, Mark Cerrone Inc., Frey Electric Construction Co., Kent & Laurie Frey, Catholic Health Mount St. Mary's Hospital, Hardison Funeral Homes, Inc., Niagara Frontier Publications, Pamela & Joe Priest, NYS Senator Robert G. Ortt, and Village of Lewiston Trustee Claudia Marasco. A full listing of the Fundraiser sponsors and donors can be found online at www.LewistonJazz.com
​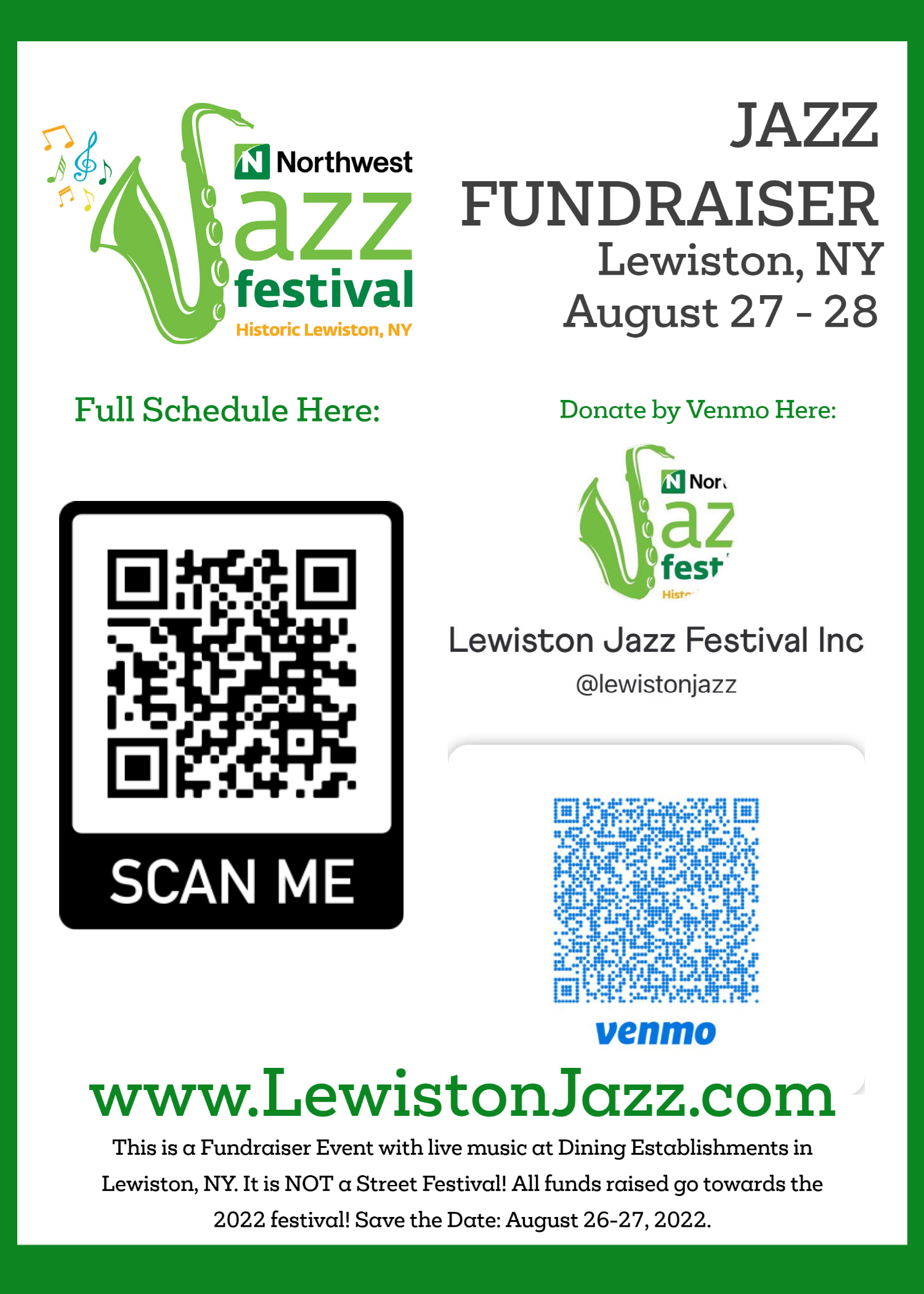 ​