Elio Villafranca and the Jass Syncopators
Saturday, August 25th 8:30pm - 10:15pm
The Main Stage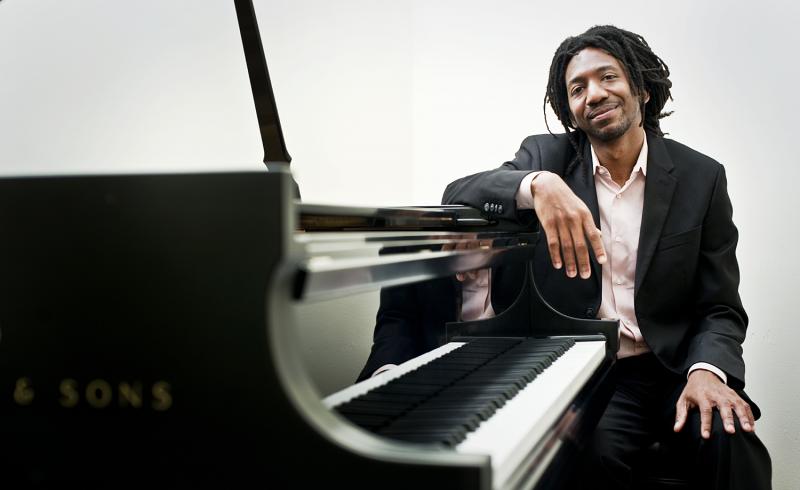 "Pianist and composer Elio Villafranca is an inspired and visionary musician. With his band, The Jass Syncopators, Elio expands what Jelly Roll Morton called The Spanish Tinge to what Elio calls The Caribbean Tinge. The band swings hard and brings a traditional yet innovative style to the roots of jazz and Afro- Caribbean music. I am profoundly moved by Elio's vision and musicianship. He is a treasured member of the family here at Jazz at Lincoln Center."
– Wynton Marsalis
"Elio's music is passionate. A brand-new application of ancient ways." – Chick Corea
"Loaded, technically superior, sharp and romantic pianism…"
– JazzTimes Magazine (Javier Quiñones)
"… Villafranca emotes an expressive, emotional quality enhanced by his technically brilliant approach to the keyboard and his rhythmically complex original compositions.."
– Philadelphia Tribune (Steve Bryn)
"Elio Villafranca is one of the most exciting young pianists to come out of Cuba in recent years…"
- Latin Jazz Network
Soon after the legendary New Orleans pianist and composer Jelly Roll Morton infused the roots of jazz with his so-called "Spanish Tinge" during the early 1900s, syncopated rhythmic patterns from the Afro-Caribbean diaspora began to play an important role in the entire foundation of jazz music. The incorporation of Afro-Caribbean rhythms began to show up in the work of jazz legends from Duke Ellington (working with Puerto Rican trombonist and composer Juan Tizol) to Dizzy Gillespie (in collaboration with the Cuban percussionist and composer Chano Pozo).
Acclaimed jazz pianist and Cuba native Elio Villafranca created his ensemble, the Jass Syncopators, to explore the Afro-Caribbean rhythms that influenced the earliest jazz musicians in their approach to their music while building upon his previous compositional work. His seventh studio album, Caribbean Tinge, and the most recent release of Cinque, are the continuation of Duke Ellington's syncopated approach to jazz music and Jelly Roll Morton's "Spanish Tinge" concept but applied to a more contemporary musical idiom. Fusing distinct Afro-Caribbean musical traditions from four islands—Puerto Rico, Dominican Republic, Haiti, and Cuba—with 21st century jazz by connecting the performing musicians with different traditions drumming, the Jass Syncopators presents an authentic cultural experience that explores the full spectrum of Caribbean music in connection with jazz.
Villafranca hopes this music will transport the musicians and audience to the different homelands where these diverse rhythms originated as he shares the many musical treasures he has inherited and loves from the Caribbean and Cuba, where he began his musical career.
The Jass Syncopators line-up include the most prominent names in jazz today, who are individual jazz stars in their own rights:
Steve Turre, trombone
Vincent Herring, alto sax
Peter Slavov, bass
Dion Parson, drums
Bruce Harris, trumpet
Gabo Lugo, percussion
Elio Villafranca, piano