Paradigm Shift
Saturday, August 27th 5:30 pm - 7:00 pm
The Frontier House Stage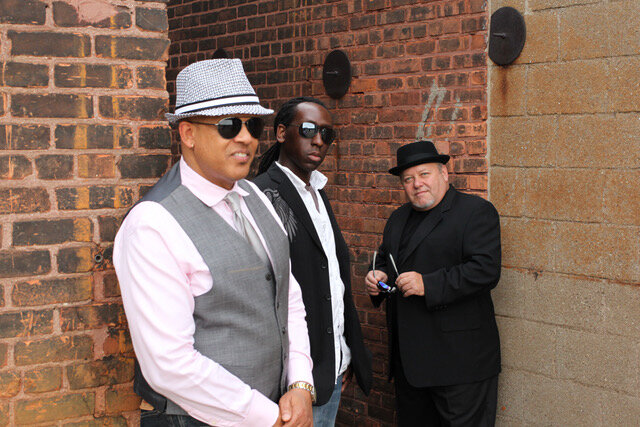 In the early 90s, Paradigm Shift was born in Rochester, NY to bring spirit back to neo-jazz with organic, funky grooves and street-level ambiance. Bandleader Melvin Henderson and co-founder Gerry Youngman grew up in the golden age of jazz clubs: simmering hotbeds of grit and soul. In an era of turmoil and enormous social change, Henderson and Youngman spent their formative years watching and listening to the great jazz legends. After attending Berklee School of Music, Youngman toured with classic R&B icons like The Drifters, The Platters, Martha Reeves, and St. Louis soul legend Walter Scott. Also out of Berklee, Henderson has recorded and shared the stage with Al Jarrreau, Roy Ayers, Cheryl Lynn, Harold Melvin & the Blue Notes, and legendary organists Jack McDuff and Dr. Lonnie Smith.
In the mid-2000s, Drummer-composer Sean Jefferson was added to the mix, completing the trio with an orchestral sensibility and fresh perspective. Jefferson has also performed alongside prominent musicians such as Rochester Philharmonic Orchestra conductor Jeff Tyzik, Marcus Printup, Wycliffe Gordon, Houston Person, and Bobby Militello.
After almost thirty years, Paradigm Shift's seasoned performers still keep it raw and vibrant in an ever relevant and evolving art form.
Paradigm Shift: a fundamental change in approach or underlying assumptions. The term cropped up in the '70s, around the time big names like Miles Davis or Herbie Hancock were shaking the bedrock of the jazz music scene. But jazz didn't stop there. It expanded. Jazz builds, grows, gets broken, and rebuilds, taking on a new shape with each iteration. It's happened many times before, and it doesn't seem to be letting up.
Enter Paradigm Shift, three musicians focused on funk, jazz and groove music. Jazz is more than a historical genre; it's a genre of the soul, a movement of notes cascading up and down unexpected turns of beats, sonic sounds pulling and drawing you in, shifting your world into a world both foreign and familiar, like when you stay up late into a warm summer night with a passionate lover and lose track of time, when you close your eyes and can feel your cells vibrating to the rhythms of the music, when you suddenly realize you're on the cusp of something big.
Paradigm Shift is Mel Henderson - Guitar/Bass | Sean Jefferson - Drums/Percussion | Gerry Youngman - Organ/Keyboard